A couple allegedly attacked the owner of the NSW Mid North Coast restaurant after they were asked to check into the venue.
Police said the man and woman attended the Anatolia Turkish Cuisine restaurant in Forster around 7.15pm on Monday, but refused to comply with the staff's request to log in with a QR code.
The couple were told they would have to leave if they did not comply, before the man then picked up a water bottle and threw it into the wall, smashing it.
He was escorted from the restaurant and punched the owner of the restaurant, a 39-year-old man.
The woman then allegedly bit a 44-year-old bystander who was trying to intervene, causing bleeding and bruising to his biceps.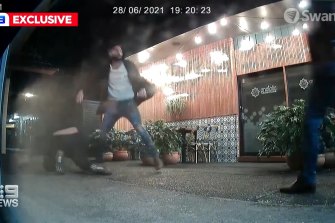 The owner sustained facial injuries and a suspected broken nose and was taken to Manning Peace Hospital.
Surveillance footage from outside the restaurant, obtained by Nine News, captured part of the fray.
The man and the woman left the restaurant. However, the police arrested both of them shortly after, and took them to Forster Police Station.