The New South Wales Coronial Inquiry heard how a fire cyclone sent smoke and flames six kilometers into the air, created winds of more than 320 kilometers per hour, and overturned a 10-ton fire truck, killing a fire service volunteer. rural.
the main points:
A tornado fire killed volunteer firefighter Samuel McCaul on December 30, 2019 when he overturned the fire truck he was in.
The NSW bushfire investigation has learned that the accident was a "rare and severe" weather event.
An investigation into the death of Samuel McCaul begins tomorrow
Culcairn firefighter Samuel McPool was killed and two other brigade members were injured when a cyclone hit a fire truck in Ginglick, near the New South Wales-Victoria border on December 30, 2019.
Today's investigation heard that the tornado, also known as the vortex of fire, came from the Green Canyon fire, which began with lightning the day before.
Statements received in the investigation from RFS members defending nearby properties described witnessing the shooting at them and the devastation it caused.
"It was winding up a lot and it was very hot," RFS member Mark Reeves said in his statement.
"I could see the flames getting bigger and I could tell we'd have a bullshit fight if it continued."
John Hawkins, RFS group leader, said he could see the hurricane descending on Green Valley Mountain toward them.
"When I looked up the hill, I saw a great whirlwind or hurricane starting to build up," said Captain Hawkins.
"I've never seen anything like this tornado before."
rare and extreme
A report read on the Met Office's investigative panel said conditions were ripe for fire whirlpools (or tornadoes) due to low humidity, high temperatures and strong winds.
She said this type of weather event was "rare and extreme".
The report estimated the cyclone's wind speed in Jinglik was more than 320 kilometers per hour and its destruction path was about 60 metres, but it only lasted for a few minutes.
"The fiery cyclone burned and sucked everything off the ground," the report stated.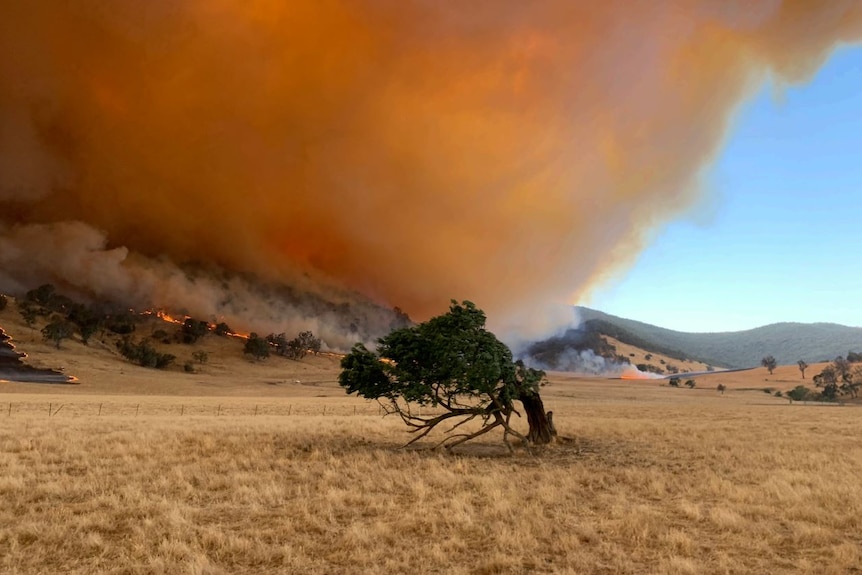 "The trees in the damage path were uprooted from the ground and dumped, in some cases, 100 meters to the south."
The Green Valley Fire burned 46,000 hectares and lasted for 53 days.
An investigation will begin tomorrow into the death of Samuel McPoll.
.