Samsung posted its best-ever smart wearable quarter thanks to Tizen's move to WearOS. And WearOS had its best quarter thanks to Samsung.
According to Counterpoint's report, WearOS' market share rose to 17% in the third quarter, up from 4% in the second quarter and 3% in the third quarter of 2020 – mainly due to Samsung's move to the platform in 2021. .
Apple maintained its leading position in the third quarter, but lost 10% of its share in the same quarter in 2020 as the launch of the Apple Watch Series 7 was pushed back to the fourth quarter.
Looking at the third quarter of 2021, compared to the third quarter of 2020, Samsung has pushed Huawei from second place and Amazfit was able to take third place thanks to its high popularity in Europe.
Google's smartwatch operating system has never been closer to Apple's than it was in the third quarter. Counterpoint attributes much of this to Samsung's Galaxy Watch4 series, which comes in two models – a Classic with a rotating bezel and a normal one without, and in two sizes each. Samsung's Body Composition measurement is also reportedly a strong factor for buyers.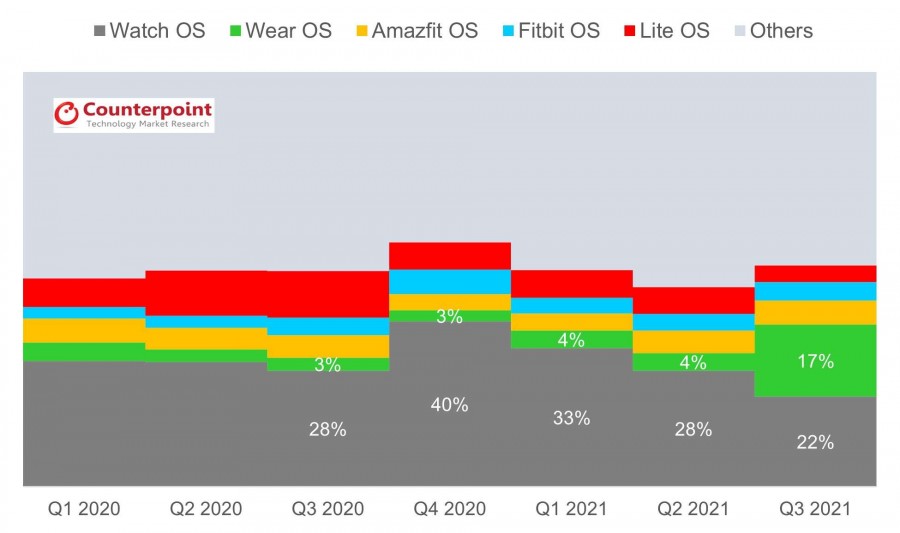 Source